The PowerCrate™
A standalone power system for off-grid and distributed generation
The PowerCrate is an all-in-one stand-alone power system designed and built by Powerhouse Wind. The combination of energy generation and storage, rapid deployment and remote monitoring makes the PowerCrate ideal wherever you need diversified generation: off-grid, fringe grid and disaster relief situations.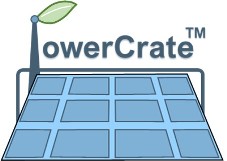 POWERCRATE™ STANDALONE
POWER SYSTEM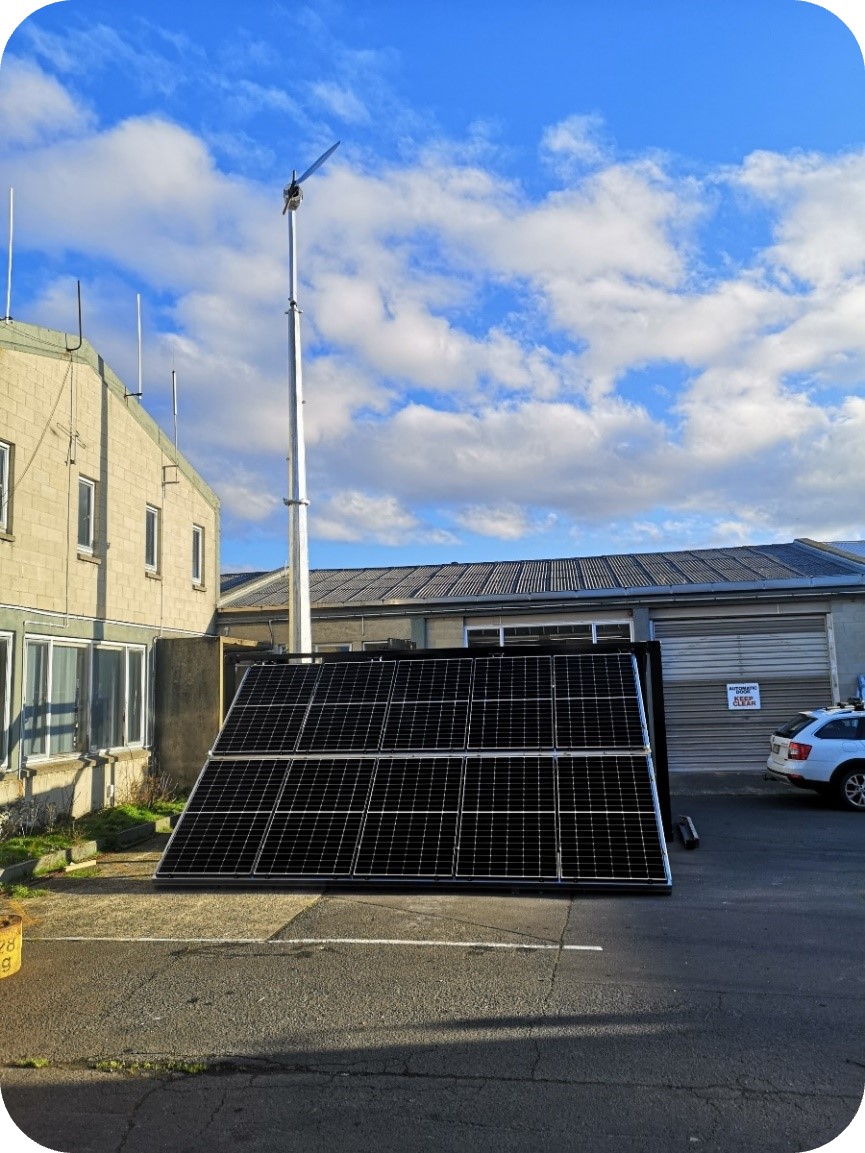 PowerCrate is a stand-alone, turn-key renewable energy generator.  Housed in a 20ft or 40ft container frame, PowerCrate delivers renewable energy fast, wherever it is needed.
Inside the power system there is:
A 2kW Thinair turbine

5kWp of solar PV modules

28kWh of battery storage

10 kW mains inverter

Remote monitoring through the cell network
The PowerCrate can be fully deployed in under three hours and features complete remote monitoring.
Designed and built in Dunedin, the PowerCrate is available in New Zealand, Australia, and the Pacific. Read about the advantages of the PowerCrate and our story or contact us for advice on how the PowerCrate can work for you.
POWERCRATE™ DISTRIBUTED GENERATION SOLUTION
The PowerCrate™ is easy to move using container handling systems; Hiab, Forklifts, Curtainsiders etc.
A true 'plug and play' solution, the PowerCrate needs minimal maintenance and can be fully set up and deployed in under 3 hours.
The modular design means that multiple PowerCrate units can be deployed at once.
The combination of solar and wind means energy can be generated from a variety of weather conditions and geographical locations.
Planning costs are minimal compared to permanent energy solutions, with low or even no site preparation required. The unit can be trialled at minimum expense.
The PowerCrate can be on or off-grid and be deployed in Remote Grid, End of Grid, and Fringe Grid sites as well as remote unoccupied sites in rugged terrain and emergency power for disaster situations.
The PowerCrate is more cost effective when compared to installations of a similar size and capacity. It has minimal ongoing costs and is relocatable.
The PowerCrate's flexible design allows add-on components such as demand response load options and a stand-by petrol/diesel generator.
Able to be re-sited if necessary, the PowerCrate can have a longer operational lifespan than competitors increasing ROI and reducing waste.
WHY DID WE BUILD THE POWERCRATE™?
Energy grids have a security problem. In New Zealand alone all 27 Power Lines companies have supply and maintenance issues at the fringes of their grid.
Many existing power lines are over 40 years old, and few new ones have been built since the subsidy that made their construction easier ended in the 1980s. With the increased frequency and severity of extreme weather events, costs of maintaining these lines is also increasing. Further, as New Zealand continues to grow, so too does its demand for energy.
Nowhere is this more evident than in remote power situations. With our unique geography, there are many locations in New Zealand that could benefit from fully remote energy solutions.
For the longest time remote energy generation has been diesel. Even with the more recent addition of solar panels, diesel input is still required as solar capacity can be quite low.
The requirement of ongoing fuel and maintenance has made many remote sites expensive. But the cost of establishing grid connected electricity can be even higher. Especially when power is only needed for a set time frame.
We wanted to create a turnkey solution. By combining both wind, solar, energy storage and full remote monitoring; with the PowerCrate any remote site can shed its requirement for ongoing fuel deliveries and become fully independent.
The PowerCrate gives the benefits of diversified generation and independent renewable energy to:
Commercial lines companies
Telecommunication towers
Remote emergency services
Construction services
Lifestyle homes
Farms
Rural marae and community hubs
Wind and solar energy are complementary and the combination of the two can potentially generate more energy from a smaller footprint. On a test site in Dunedin with combined wind and solar generation a single Thinair wind turbine generated up to  75% of the total energy per month in winter, and 36% of the combined wind-and-solar energy output over the year.
If you'd like to see how the PowerCrate wind and solar system can work for you, contact our team.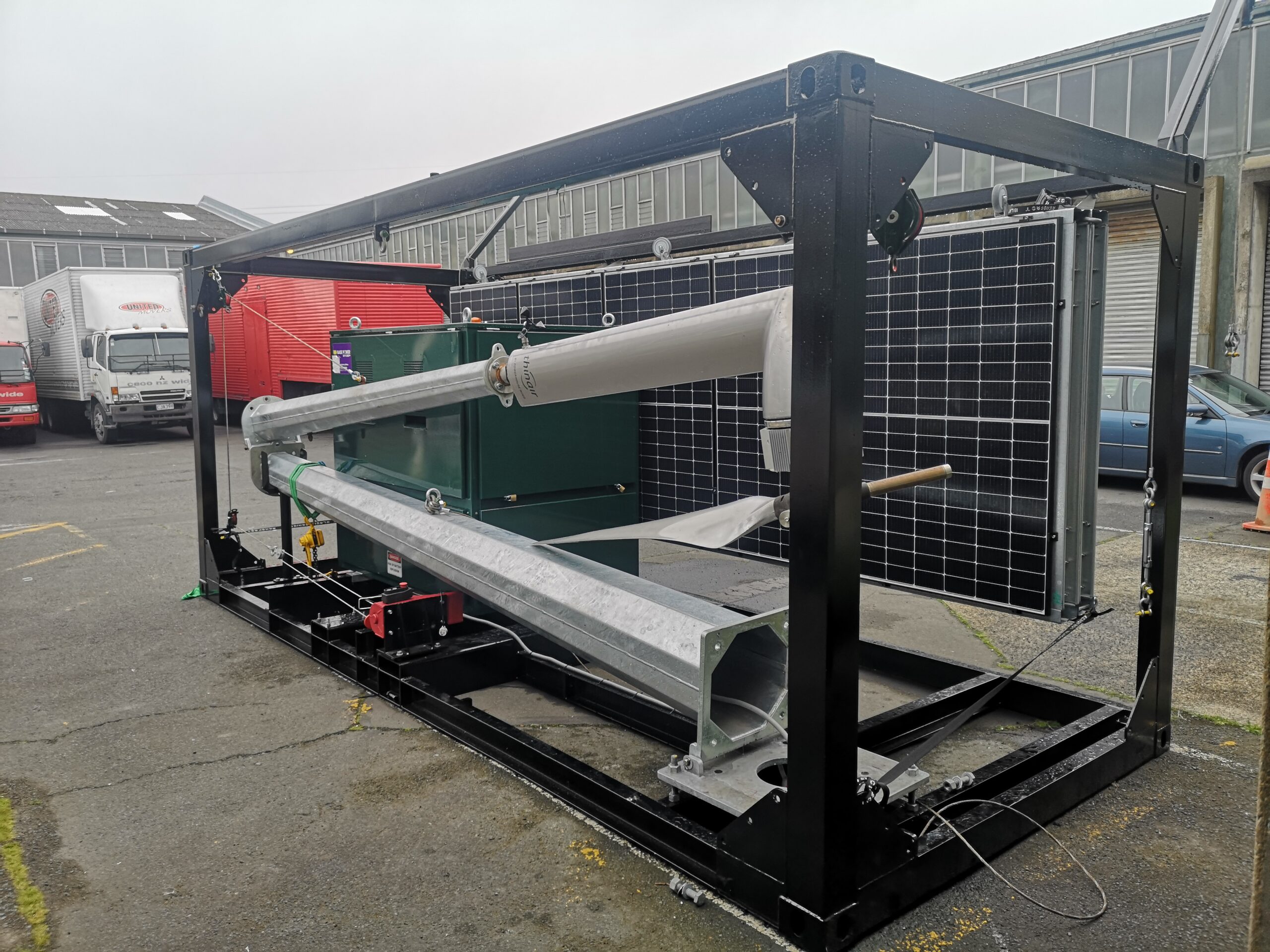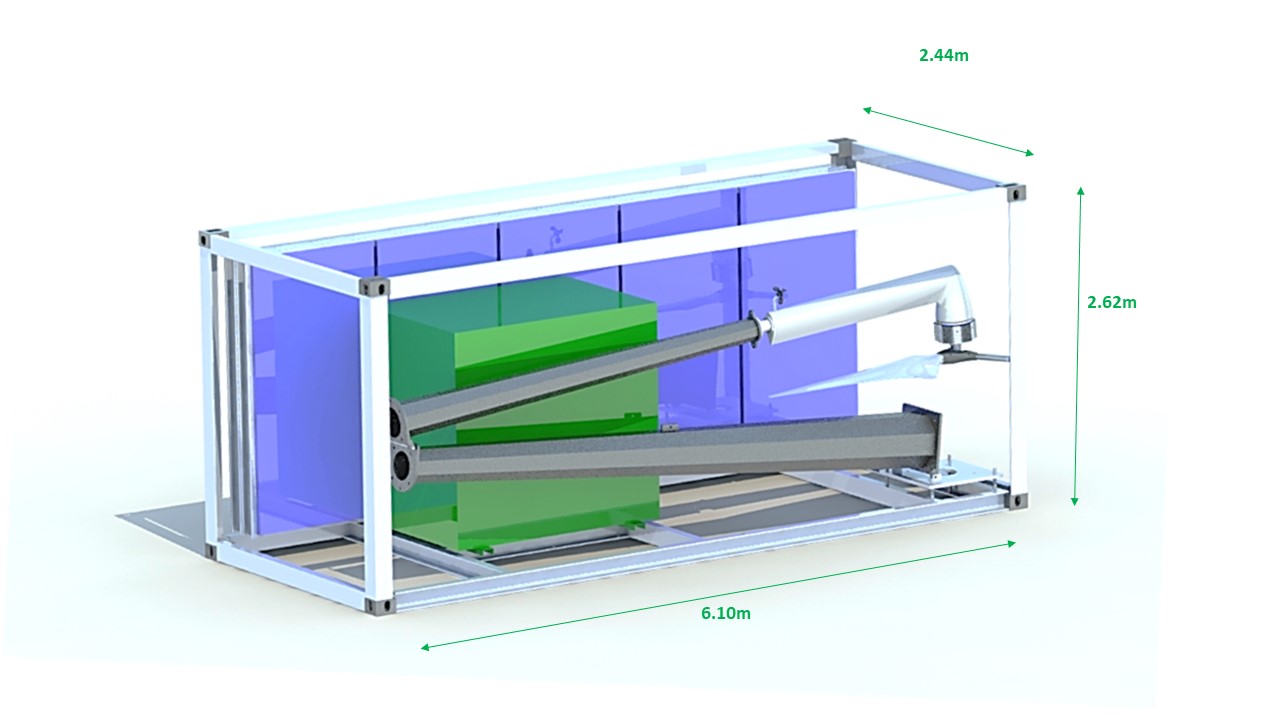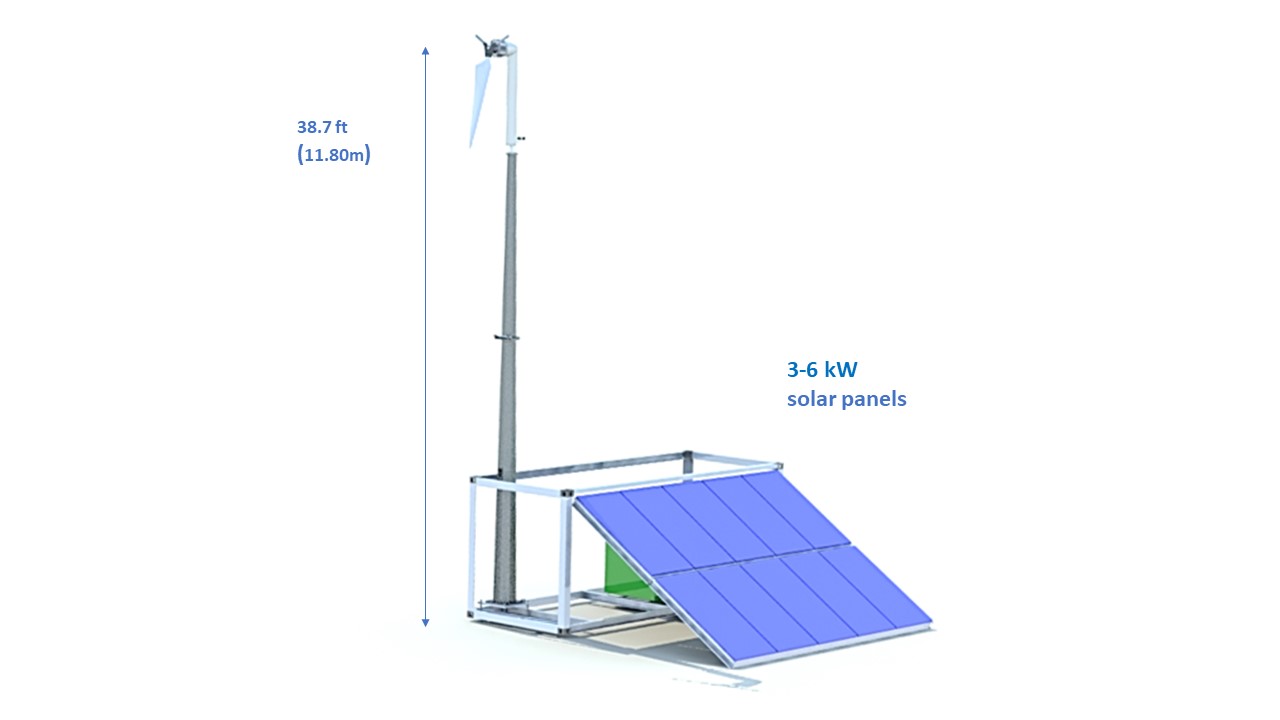 The POWERCRATE™ is now available to order.
We are happy to help with site and application investigations.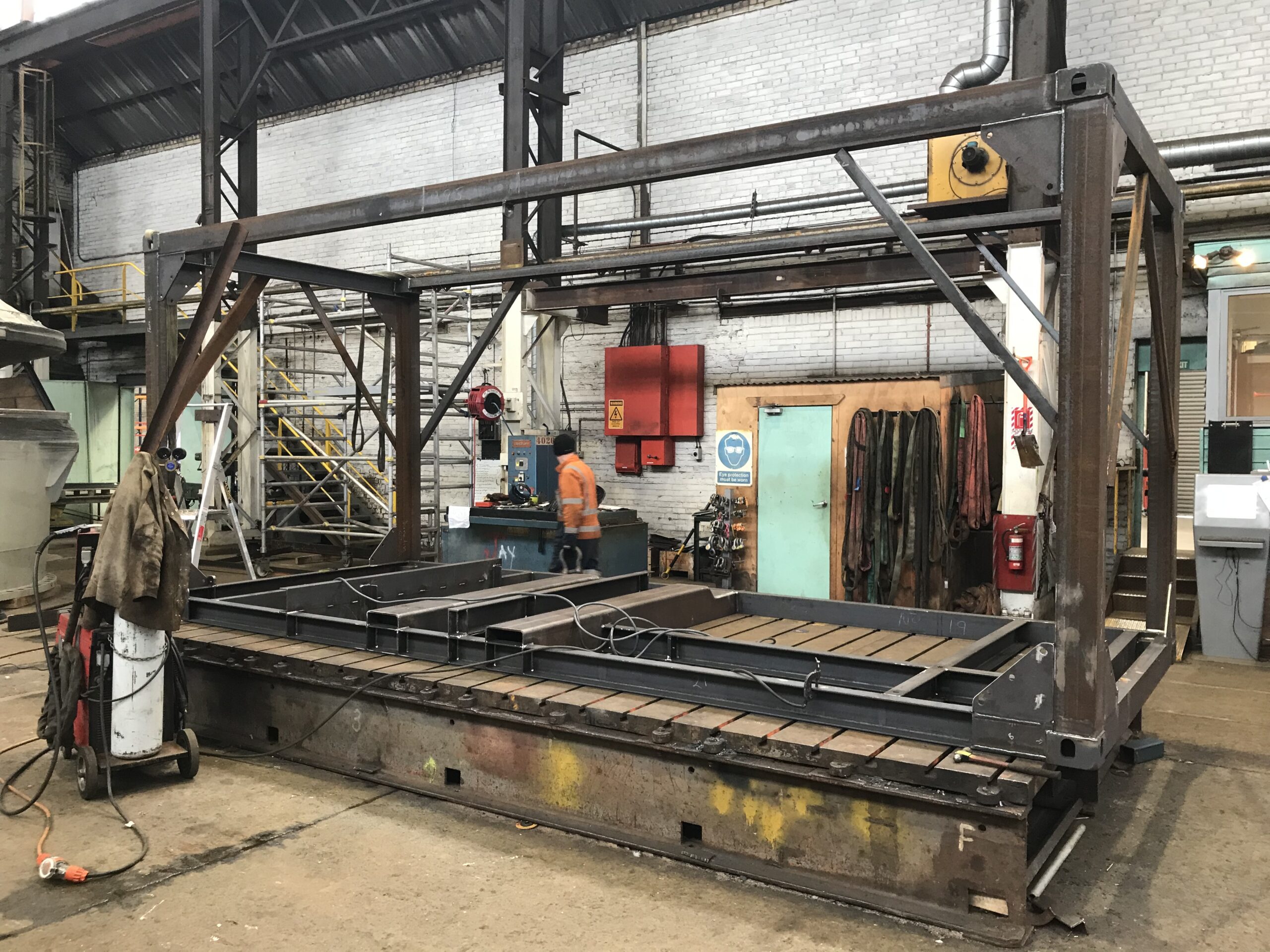 POWERCRATE™ frame takes shape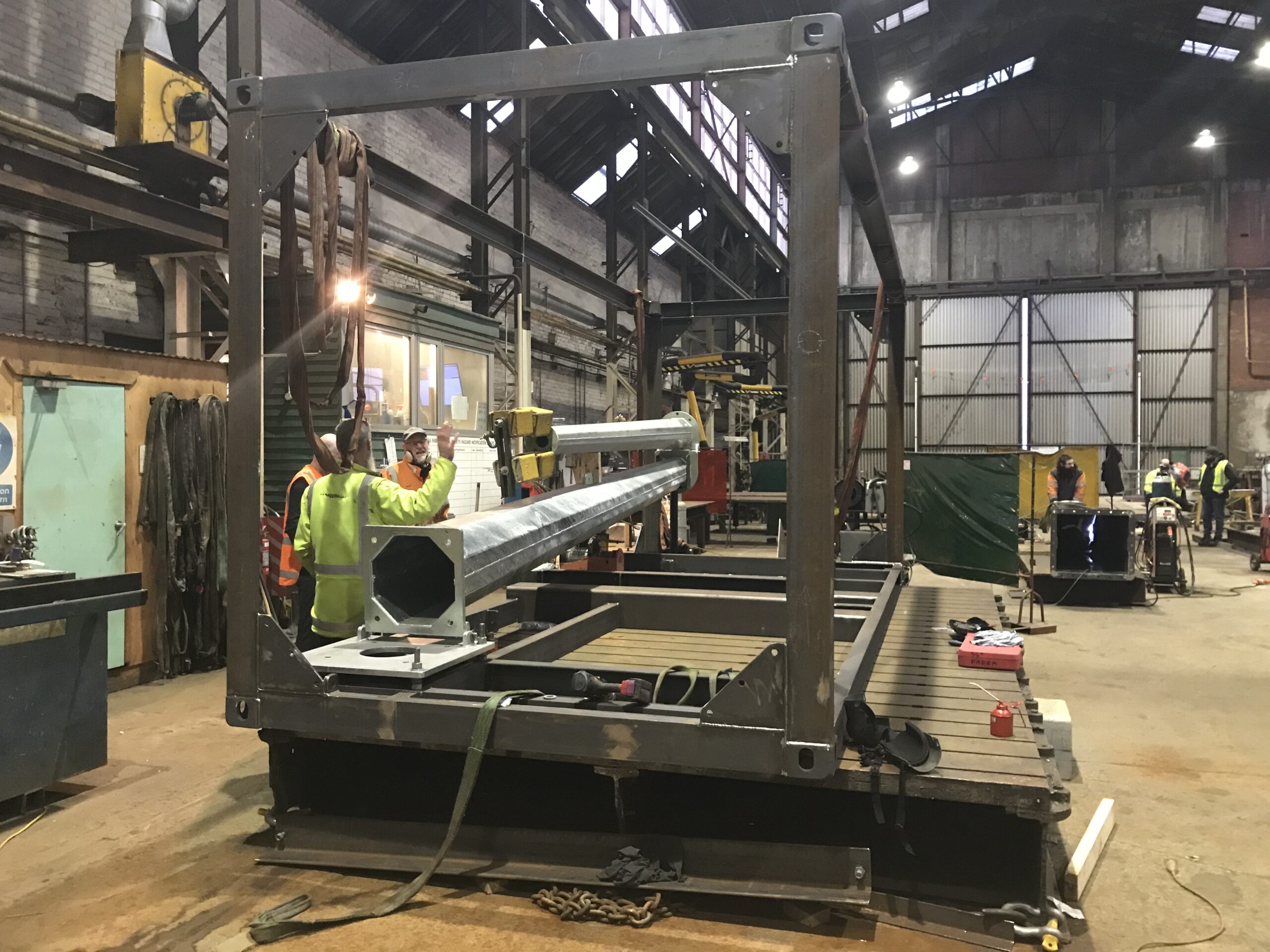 Installing the folding tower
Testing the tower deployment
Talk to us today about how we can help you with your renewable energy needs.